In Sakuraya, we provide Free Hotspot (Wi-Fi) "Wireless LAN".
You can connect the internet by your own computer or smart phone for free at anywhere, anytime in Sakuraya.


Would you like to go to Niijima (Izu seven islands) from Shimoda by ship?
JNTO

Japan National Tourist Organization
Everything about Traveling to Japan
Japan guide.com(Click here)
Japan Travel, hotels, shops and Lliving Guide
JAPAN TRAVEL-PHONER-Toll-Free service
Japan Travel-Phone is a nationwide telephone service for those in need of English language assistance and travel infomation.
Dial 0088-22-4800(toll-free outside Tokyo and Kyoto)
Service hours; 9am to 5pm daily
When calling within Tokyo(area code 03) dial 3201-3331
or Kyoto(area code 075)city dial 371-5649 respectively.
The charge for your call is 10 YEN per minute.

JR East Infoline
JR provides a convenient telephone infromation service in English, Korean and Chinese for quick and complete JR information about train time schedules, the faster JR route from place to place, locations of reservation offices, and so forth.
Call 050-2016-1603
Service hours; 10am - 6pm (except during the year-end/new year holiday period)
Reservations cannot be accepted by telephone service.
Useful Telephone Numbers
Japan Helpline - emergencies, counselling 24 hours, free 0120-46-1997
Tokyo English Lifeline - emergencies, counselling 03-3264-4347
English speaking doctors
St. Luke's Hospital: 03-3541-5151
Int'l Catholic Hospital: 03-3951-1111
Tokyo Sanitarium Hospital: 03-3392-6151
NTT English Information Service
Telephone number information service: Number: 0120-364-463, toll free
Hours: 9 a.m. to 5 p.m. Monday through Friday

Driving over looking Mt. Fuji on west Izu peninsula


Most of restaurants and shops in Shimoda don't accept a credit card.
Japan Post Bank has an International ATM service, and you can get a cash with your credit card.
There is a Japan Post Office in Shirahama area and Shimoda downtown.
The information in English for ATM is in this website.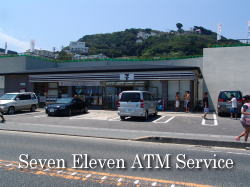 There is a Seven Eleven near the beach,
4 mintutes walk from Pension Sakuraya.

They have an ATM service of Seven Bank
which accept the International Credit Card.

You can draw a cash 24 hours a day.

Seven Bank in detail in English
Seven Eleven Shimoda Shirahama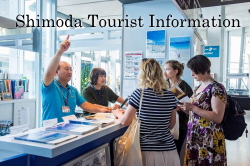 This is a website of Seamon which is the information office in Shimoda and provide a lot of informations of activities in and around Shimoda city.

They have an information counter on the second floor of Roadside Station Kaikoku Shimoda Minato.
Seamon Webiste